assist-Mi Wins Award To Develop Revolutionary Smart Rail Travel Solution For Disabled Passengers
assist-Mi are pleased to announce a £260k award of co-funding by the UK's leading innovation agency Innovate UK, for a project to develop and pilot a revolutionary smartphone app, that will help disabled rail passengers obtain real-time assistance during their journey whilst simplifying the booking experience for both the user and train operators. The app will also offer various incentives and promotions made possible by the involvement of Corethree, the mobile solutions experts.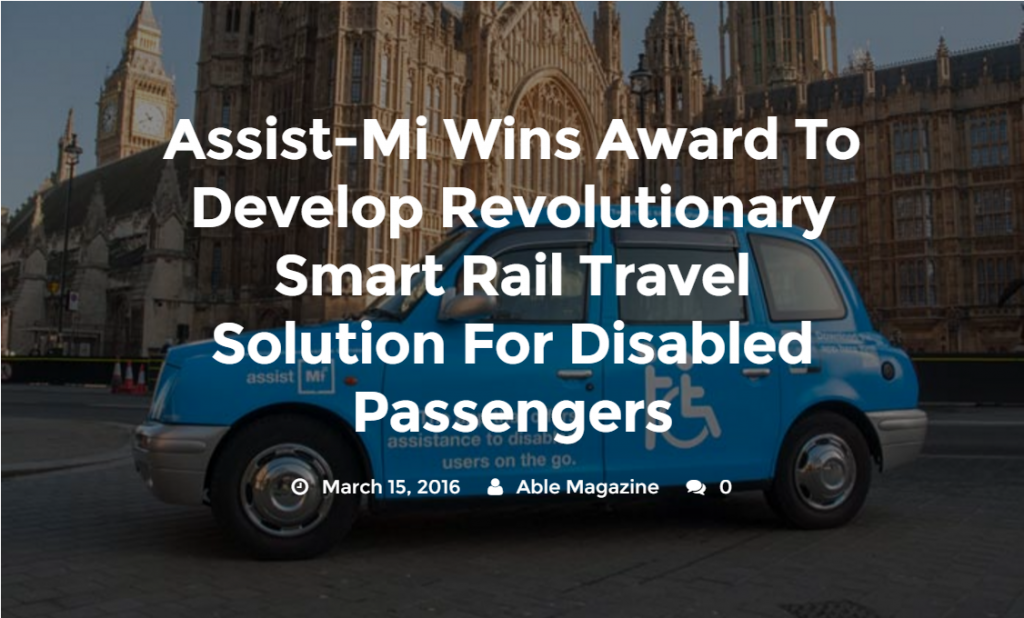 SMART – Spontaneous Mobile Accessible Rail Travel – is an 18 month project which will provide a demonstrator and pilot trial for a new and innovative means of enabling disabled persons to request assistance when travelling by train. assist-Mi are partnered in this project by Integrate Systems Engineering Ltd, Corethree Ltd, and Chester-le-Track'. Grand Central Rail will trial the app on their Sunderland to London service.
The project plans to put an end to the current practices that mean that assistance needs to be booked 24 hours in advance, reducing flexibility in travel planning as well as causing severe distress if the train is missed, delayed or cancelled.  In addition, the passenger has to give their requirements each time they book and support for the journey to the departure station or the onward journey from the destination station often isn't available.
Read More - http://ablemagazine.co.uk/assist-mi-wins-award-to-develop-revolutionary-smart-rail-travel-solution-for-disabled-passengers/